Miguel A. Gandert was born in Española and grew up in Santa Fe. For Gandert, who continues to use traditional black-and-white film, photography gives voice to the voiceless and tells community stories that have been forgotten or ignored, but are profoundly important to the modern world. His work has been shown in galleries and museums internationally and is in a number of public collections, including the Boston Museum of Fine Arts, the Smithsonian Museum of American History, and Yale's Beinecke Rare Book & Manuscript Library, and was selected for the 1993 Biennial Exhibition at the Whitney Museum of American Art in New York. His book Nuevo México Profundo: Rituals of an Indo-Hispano Homeland (Santa Fe: Museum of New Mexico Press, 2000) accompanied the inaugural exhibit of the National Hispanic Cultural Center in Albuquerque. He has collaborated with renowned scholars, most recently on In the Company of Empty Crosses with Arturo Madrid and The Plazas of New Mexico with Chris Wilson. Gandert is Distinguished Professor and Director of Interdisciplinary Film and Digital Media at the University of New Mexico. He lives in Albuquerque.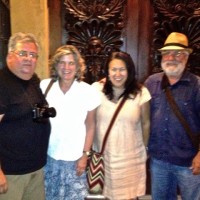 Miguel, Catherine, Evangeline, Enrique
at Serenata de Garibaldi, Boyle Heights
Catherine L. Kurland left her hometown of Los Angeles for the East Coast after graduating from the University of Southern California, relocating to Santa Fe in 2004. Before her return to the Spanish Southwest, Kurland lived in New York, where she co-owned Kurland•Zabar, the first gallery in the United States to specialize in the British Arts & Crafts movement. At about the time she began her graduate studies in historic preservation at the University of New Mexico, Kurland discovered that the architect-designed hotel built by her great-grandparents in 1889 was still standing—now a residence for over 100 mariachi musicians! Her determination to save the endangered structure from demolition and protect it with a historic designation led Kurland to uncover her deep roots in the old Spanish and Mexican pueblo of Los Angeles and opened her heart to the musicians, whose intangible heritage she has worked to preserve. Kurland is the Executive Editor of El Camino Real de Tierra Adentro Trail Association's journal, Chronicles of the Trail, recipient of a New Mexico 2011 Heritage Preservation Publication Award.
Enrique R. Lamadrid was born in Embudo and grew up in Santa Fe and Albuquerque, where he lives now. As a folklorist and musicologist based at the University of New Mexico, Lamadrid's fieldwork has led him south in search of more recent traditions, including the mariachis. His research on mestizo cultures culminated in his acclaimed book Hermanitos Comanchitos: Indo-Hispano Rituals of Captivity and Redemption (Albuquerque: University of New Mexico Press, 2003), recipient of the prestigious Chicago Folklore Prize for ethnographic writing. The American Folklore Society granted him the Américo Paredes Prize for his cultural activism, and the Historical Society of New Mexico awarded him the Gilberto Espinosa Prize for historical research and the Pablita Velarde Prize for children's literature, most recently for Amadito and the Hero Children. Lamadrid has collaborated on many field-based projects with photographer Miguel Gandert. Lamadrid was co-curator of the International Camino Real International Heritage Center in Socorro and currently serves as International Liaison for El Camino Real de Tierra Adentro Trail Association. He is Distinguished Professor of Spanish and Portuguese at the University of New Mexico.
Evangeline Ordaz-Molina was born just blocks away from Hotel Mariachi in Boyle Heights, Los Angeles. She was one of the four founders of the East LA Community Corporation (ELACC), the nonprofit community development corporation that bought and restored the 1889 hotel and served on the board for twelve years as vice president and general counsel. Ordaz-Molina is also a playwright whose works about Latino immigration have been produced throughout the Southwest. She is currently writing a play about Los Angeles, commissioned by the Center Theater Group (Mark Taper Forum, Ahmanson Theater, Kirk Douglas Theater). A member of the California Bar, Ordaz-Molina practiced law in the areas of human rights, government benefits, and housing rights, and teaches constitutional law at California State University, Northridge.